The days seem to be speeding by, while the week seems to be dragging on..
Maybe a combo of all the travel of the last week, time change and lack of sleep on vacation catching up with me?!
Thank goodness for the Miles Not Cookies Contest, so I at least made it onto the treadmill yesterday!
If you are just reading about it, simply log at least 5 miles a week (running, walking, biking- doesn't matter!!) from now until Christmas, post your mileage on Sundays and be entered to win great gifts each week!
Join the challenge to help prevent weight gain this holiday season!
I've been trying to be careful this week, and yesterday was a great example of healthy eating for WIAW.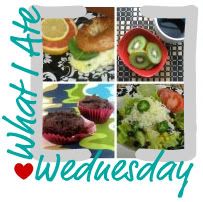 Thanks for hosting the weekly food party, Jenn!
Breakfast: 2 eggs, 2.5 slices of turkey bacon, topped with a wedge of Laughing Cow (Garlic Herb- yummy!)
Lunch was an old favorite- leftovers! Grilled chicken with spinach, mushroom tomato sauce and roasted veggies (squashes, tomato, onion) topped with a little low-fat feta.  Also had a Greek yogurt with half a Lemon Lara bar for a snack.
Dinner was mixed greens with tomato and onion topped with buffalo chicken, 1/4c quinoa and 1t blue cheese dressing.  I find when I pile all the ingredients on top, I need less dressing, so I just added a little blue cheese to cut the spice of the buffalo sauce!
After dinner, I hopped on the treadmill for a 1.5 mile stress relief walk and promptly had my bloodsugar crash, so I treated with some Biscoff spread, since nothing else sounded good…
And, I'm up this morning to try and get some treadmill time in before heading to work!  Tonight is my stitch and chat class, so it will be a long day, but end on a good note!
Hope that you have a great day, enjoy WIAW and be sure and join the Miles Not Cookies challenge!
Current Mileage: 4.7miles (woohoo, going to meet the goal by Wednesday!)